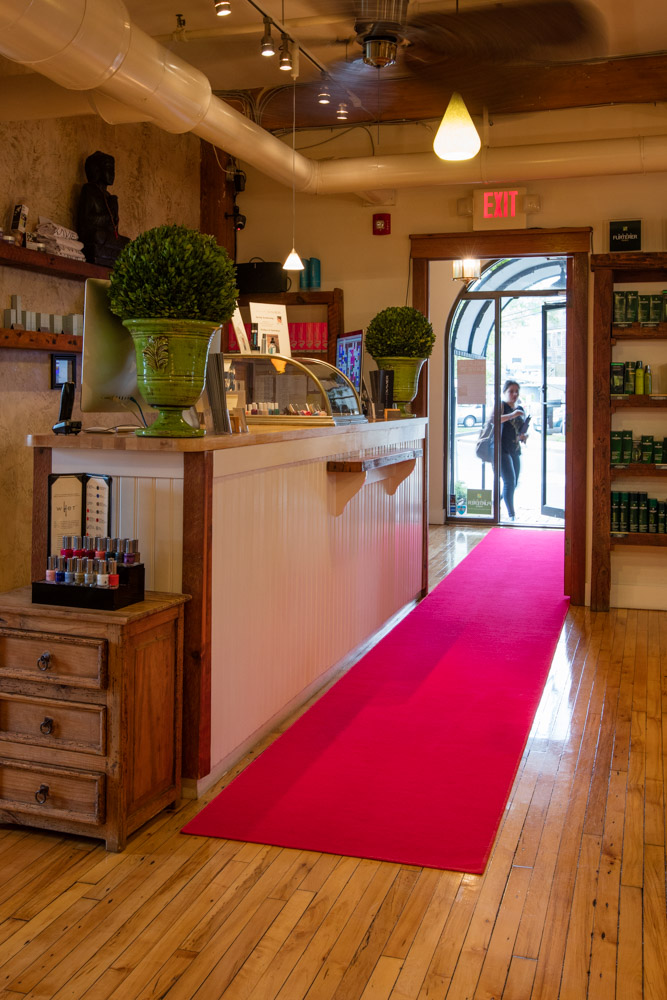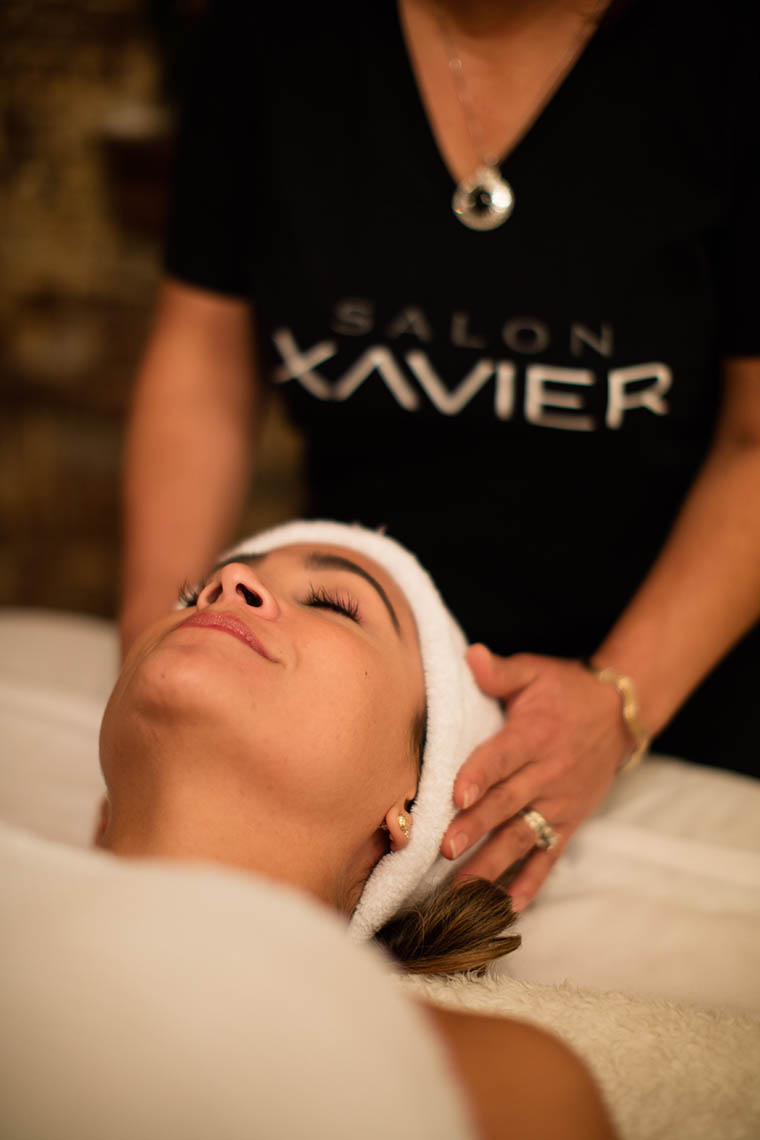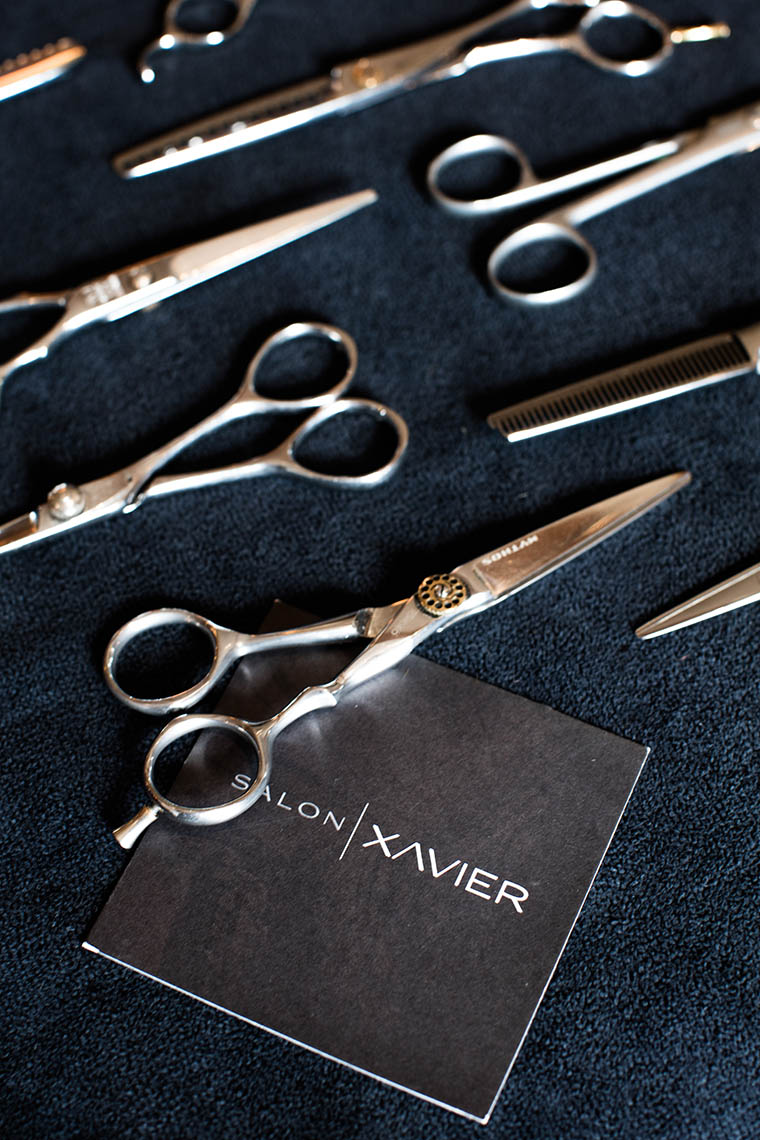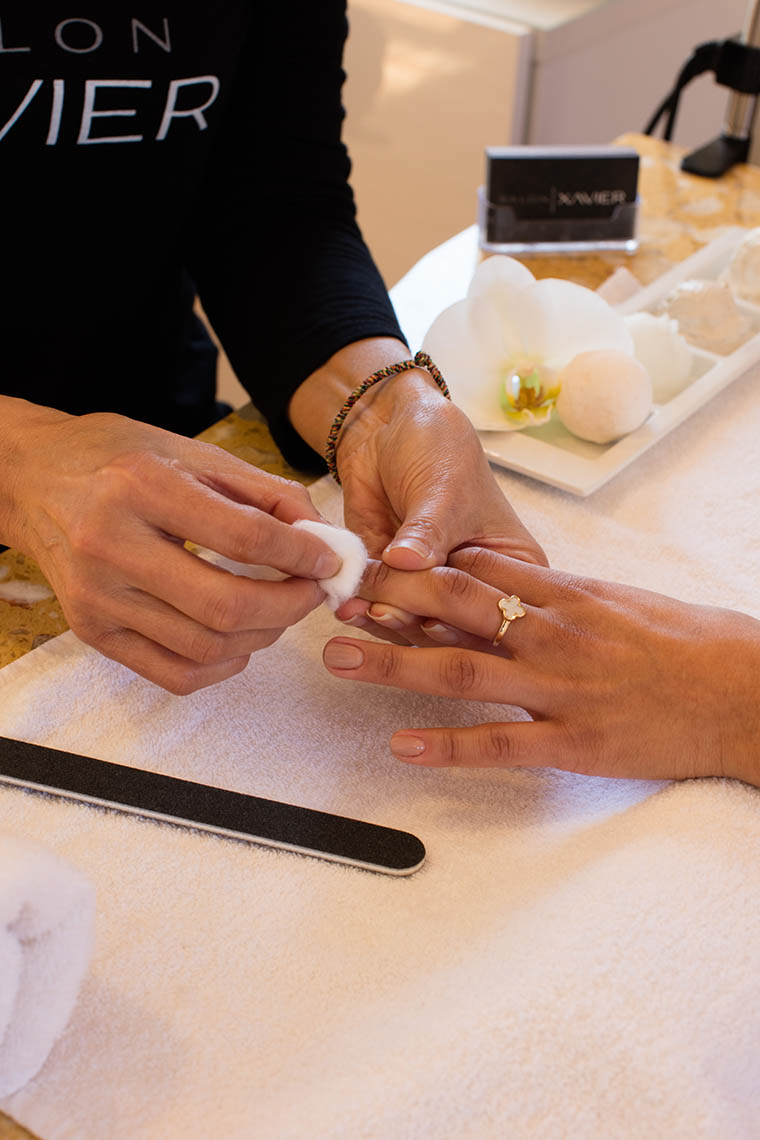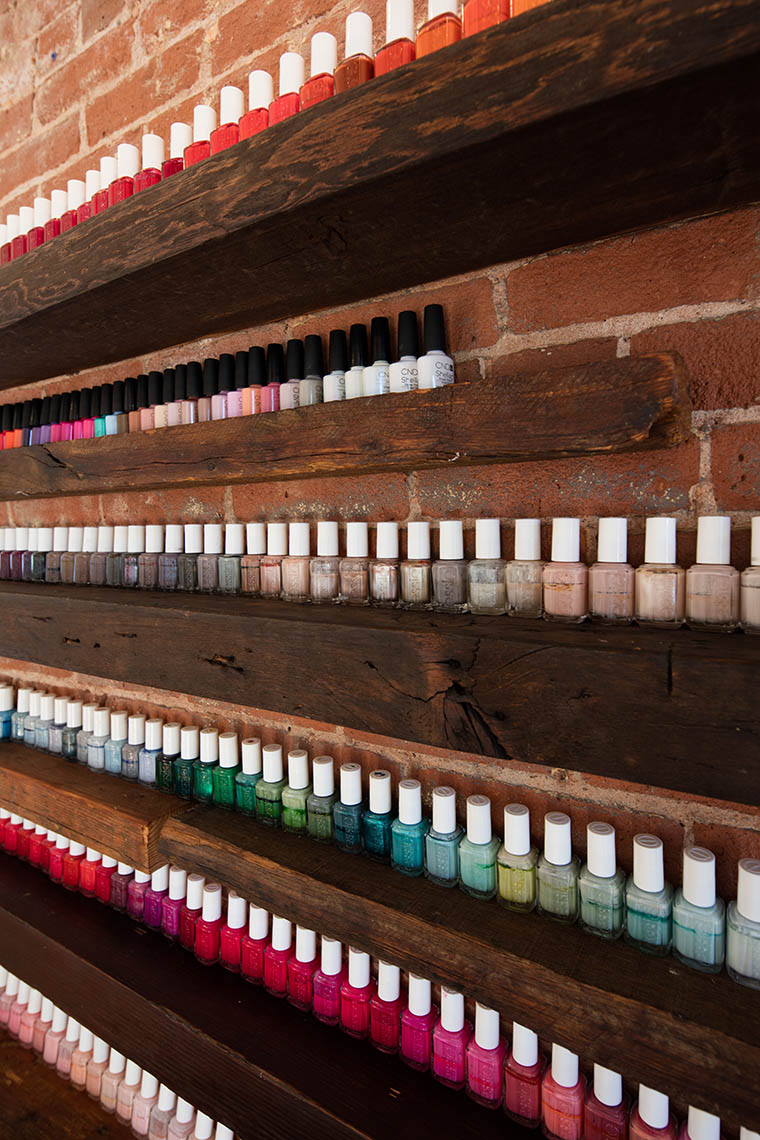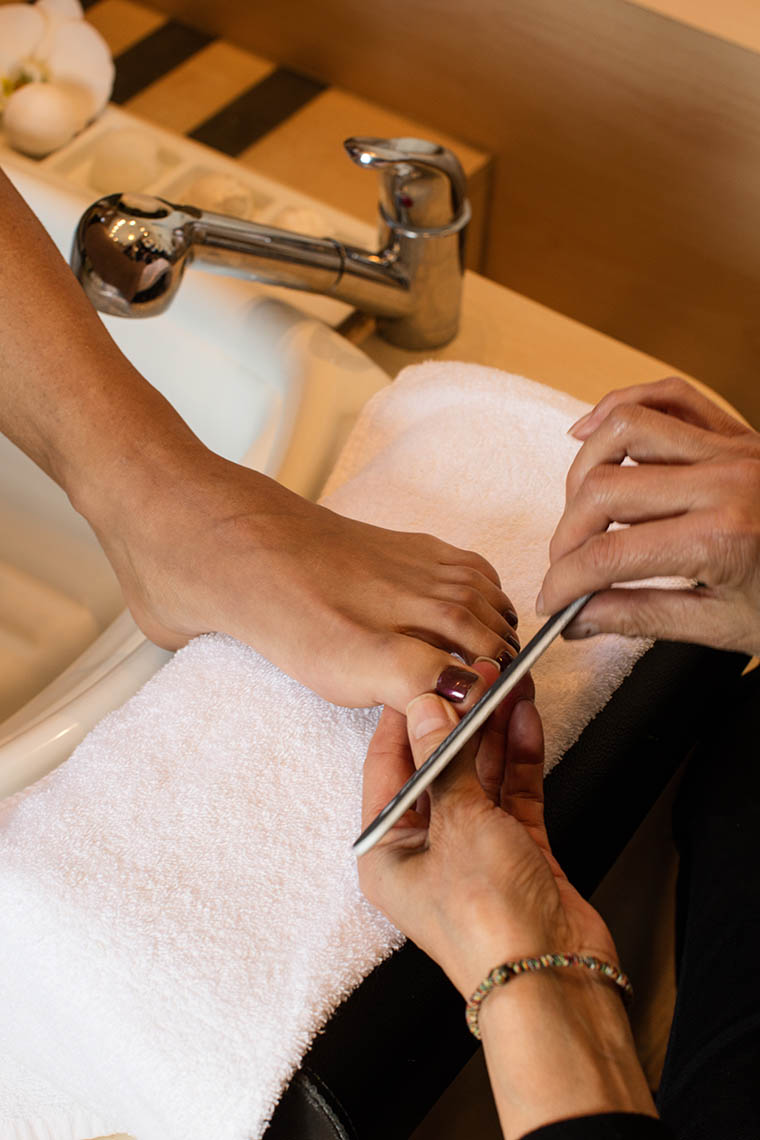 MENU | SALON SERVICE MENU
Enter a world of pampering, peace and precision!  At Salon Xavier we strive to provide our clients with the best service and expert treatments in a relaxed and friendly atmosphere. Choose from cutting edge cuts and color, skillful and luxurious facials, blissful massage, expert waxing and soothing hand and foot treatments.  All of our stylists and technicians come to you with years of experience in their fields and aim to make you look and feel amazing!
Xavier's Philosophy: "To Create a Sanctuary
Of Beauty Built Upon Great Service, Expert
Technique and Passion ."
Most services are available for house calls and boat calls. Walks-Ins are welcome and reservations suggested. Don't forget to check our PROMOS page for seasonal packages, and specials.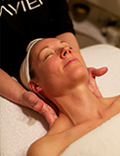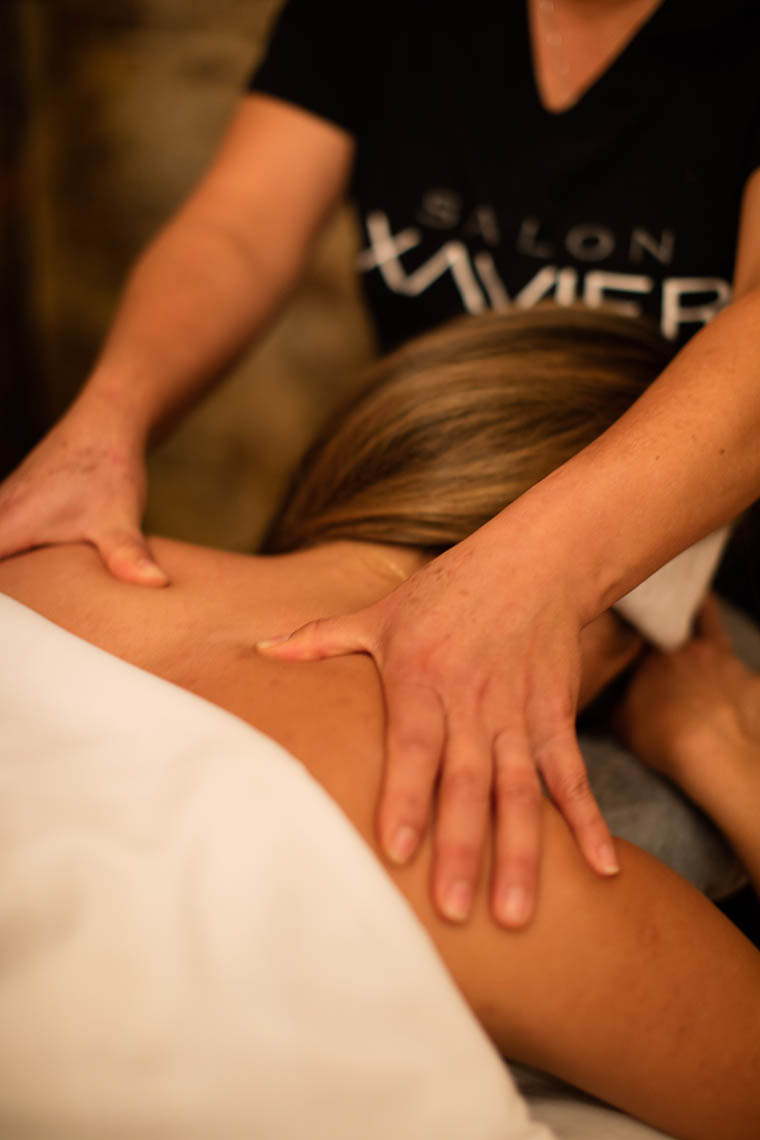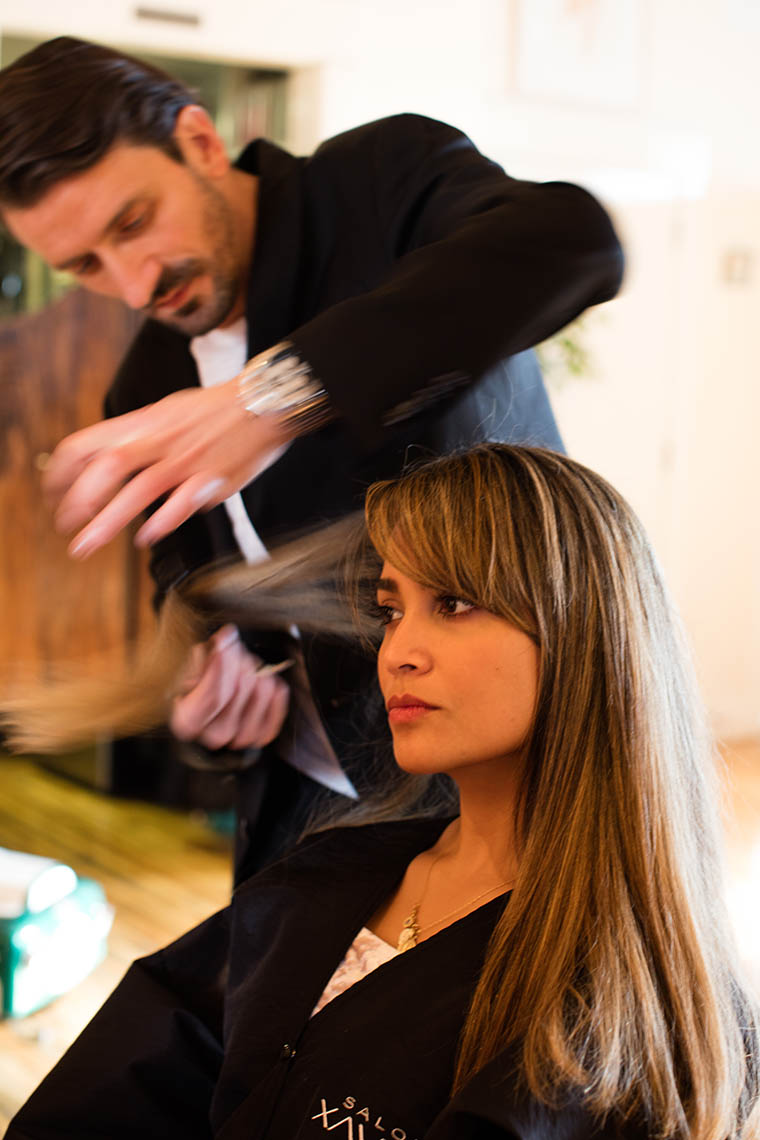 | | | | | |
| --- | --- | --- | --- | --- |
| HAIR TREATMENTS | | | | |
| CUT + STYLE | | WITH XAVIER | SENIOR STYLIST | JUNIOR STYLIST |
| Hair Cut | | $150 | $100 | $75 |
| Men's Hair Cut | | $90 | $70 | $50 |
| Children's Hair Cut (12 years old and under) | | $75 | $60 | $50 |
| Bang Trim | | $30 | $20 | $20 |
| Wash and Blow Dry | | $80 and up | $65 and up | $55 and up |
| Wash and Blow Dry w/ Flat Iron | | $90 and up | $80 and up | $65 and up |
| Updo  | | $170 and up | $135 and up | $110 and up |
| COLOR | | | | |
| Single Process | | $135 and up | $110 and up | $80 and up |
| Demi Color | | $125 | $100 | $70 |
| Semi Permanent | | $110 | $90 | $65 |
| Glaze | | $85 | $70 | $55 |
| Glaze w/ Color | | $65 | $55 | $45 |
| Men's Color | | $80 | $70 | $50 |
| HIGHLIGHTS + LOWLIGHTS | | | | |
| Full Head | | $260 | $220 | $155 |
| Half Head | | $195 | $165 | $120 |
| Partial Head | | $135 | $105 | $75 |
| Balayage | | $200 | $165 | $110 |
| TREATMENTS | | | | |
| Brazilian Blowout | | $530 | $470 | $410 |
| Keratin Smooth Control | | $360 | $310 | $270 |
| Keratin Express | | $175 | $135 | $120 |
| Permanent Wave | | $145 | $120 | $100 |
| Rene Furterer 3 Step Conditioning Treatment | | $90 | $85 | $80 |
| Noiraudepro Conditioning Treatment | | $115 | $95 | $95 |
| Pre Art Build Up Removal Treatment | | $55 | $45 | $45 |
HAND TREATMENTS 
FOOT TREATMENTS
SPA MANICURES
SPA PEDICURES
Ginger Tea Vegan Spa Manicure

GINGER TEA VEGAN SPA MANICURE: "Ginger is an ancient medicinal ingredient that can cure and prevent health and respiratory conditions with its antibacterial properties. It also has a healing property that increases blood flow and promotes energy.

Our Ginger Tea Vegan Spa Manicure products are paraben and sulfate free and smell amazing! You will start with a detoxing soak to soften skin, relieve tension and stimulate blood circulation in the hands before work on cuticles and nails begins. An eco-friendly clay mask, sugar scrub and lotion (with extra massage!) are applied to soothe, renew and hydrate the skin before topping off with a nail polishing or buff shine. You are invited to choose from our special Whet nail polishes, also vegan, that stay on extra long. There is no extra charge for French polishing. All Ginger Tea Vegan Spa products contain three certified organic ingredients: palm, coconut and jojoba oils."

$50 / 45 min.
Ginger Tea Vegan Spa Pedicure

GINGER TEA VEGAN SPA PEDICURE: "Ginger is an ancient medicinal ingredient that can cure and prevent health and respiratory conditions with its antibacterial properties. It also has a healing property that increases blood flow and promotes energy.

Our Ginger Tea Vegan Spa Pedicure uses only pure eco-friendly products, free of parabens and sulfates. You will experience the luxury of white tea and ginger detoxing mineral soaks, clay mask, sugar scrub and lotion with lots of extra massage and callous removal. All Ginger Tea Vegan Spa products contain three certified organic ingredients: palm, coconut and jojoba oils. You are invited to choose from our special Whet nail polishes, also vegan, that stay on extra long. There is no extra charge for French polishing."

$90 / 75 min. 
Madagascar Vanilla & Lavender Manicure

MADAGASCAR VANILLA + LAVENDER SPA MANICURE (infused with white truffle oil): "Lavender is a calming stress reliever; relaxing for the nerves and often helps as a sleep aid.

Our Madagascar Vanilla+ Lavender Spa Manicure starts with a detoxing soak to soften skin, relieve tension and stimulate blood circulation in the hands before work on cuticles and nails begins. An eco-friendly clay mask, sugar scrub and nourishing cream (with extra massage!) are applied to soothe, renew and hydrate the skin before topping off with nail polishing or buff shine. We invite you to choose from our special vegan Whet nail polish that stays on extra long. There is no extra charge for French polishing."

$50 / 45 min.
Madagascar Vanilla & Lavender Pedicure

MADAGASCAR VANILLA + LAVENDER SPA PEDICURE (infused with white truffle oil): "Lavender is a calming stress reliever; relaxing for the nerves and often helps as a sleep aid.

The Madagascar Vanilla + Lavender Spa Pedicure includes two effervescent bath soaks great for aches, pains, soreness and skin softening due to its active ingredient epsom salt. The Spa pedicure includes extra emphasis on callous treatment and massage with a soothing hydration clay mask, an exfoliating sugar scrub and wonderful massage for legs and feet with our rich and nourishing cream. We invite you to choose from our special vegan Whet nail polish that stays on extra long. There is no extra charge for French polishing."

$90 / 75 min.
Apple Blossom + Kumquat Spa Manicure

APPLE BLOSSOM + KUMQUAT SPA MANICURE (infused with cedar honey): "The fresh scent of the edible apple blossom flowers combined with the zesty citrus kumquat fruit delivers rejuvenation and a sweet sensation.

Our Apple Blossom + Kumquat Spa Manicure starts with a detoxing soak to soften skin, relieve tension and stimulate blood circulation in the hands before work on cuticles and nails begins. An eco-friendly clay mask, sugar scrub and nourishing cream (with extra massage!) are applied to soothe, renew and hydrate the skin before topping off with nail polishing or buff shine. We invite you to choose from our special vegan Whet nail polish that stays on extra long. There is no extra charge for French polishing."

$50 / 45 min.
Apple Blossom + Kumquat Spa Pedicure

APPLE BLOSSOM + KUMQUAT SPA PEDICURE (infused with cedar honey): "The fresh scent of the edible apple blossom flowers combined with the zesty citrus kumquat fruit delivers rejuvenation and a sweet sensation.

The Apple Blossom and Kumquat Spa Pedicure includes two effervescent bath soaks great for aches, pains, soreness and skin softening due to its active ingredient epsom salt. The Spa pedicure includes extra emphasis on callous treatment and massage with a soothing hydration clay mask, an exfoliating sugar scrub and wonderful massage for legs and feet with our rich and nourishing cream. We invite you to choose from our special vegan Whet nail polish that stays on extra long. There is no extra charge for French polishing."

$90 / 75 min.
Balinese Papaya + Sauternes Spa Mani.

BALINESE PAPAYA + SAUTERNES SPA MANICURE (infused with black currant): "Papaya is a healing and digestive aid for the body, containing an abundance of vitamin c and rich sources of antioxidants. It is a refreshing and citrus fruit that can also be enjoyed as a soothing topical treatment.

Our Balinese Papaya and Sauternes Spa Manicure starts with a detoxing soak to soften skin, relieve tension and stimulate blood circulation in the hands before work on cuticles and nails begins. An eco-friendly clay mask, sugar scrub and nourishing cream (with extra massage!) are applied to soothe, renew and hydrate the skin before topping off with nail polishing or buff shine. We invite you to choose from our special vegan Whet nail polish that stays on extra long. There is no extra charge for French polishing."

$50 / 45 min.
Balinese Papaya + Sauternes Spa Pedi. 

BALINESE PAPAYA + SAUTERNES SPA PEDICURE (infused with black currant): "Papaya is a healing and digestive aid for the body, containing an abundance of vitamin c and rich sources of antioxidants. It is a refreshing and citrus fruit that can also be enjoyed as a soothing topical treatment.

Our Balinese Papaya and Sauternes Spa Pedicure includes two effervescent bath soaks great for aches, pains, soreness and skin softening due to its active ingredient epsom salt. The Spa pedicure includes extra emphasis on callous treatment and massage with a soothing hydration clay mask, an exfoliating sugar scrub and wonderful massage for legs and feet with our rich and nourishing cream. We invite you to choose from our special vegan Whet nail polish that stays on extra long. There is no extra charge for French polishing."

$90 / 75 min
ULTIMATE MANICURES
ULTIMATE PEDICURES
Paraffin Manicure
$60 / 60 min.
Reflexology Pedicure
$120 / 75 min.
Detox Pedicure
$105 / 75 min.
Paraffin Pedicure
$105 / 75 min.
CLASSIC MANICURES
CLASSIC PEDICURES
Classic Manicure
$30 / 30 min.
Classic Pedicure
$60 / 60 mi
French Manicure
$35 / 30 min.
French Pedicure
$65 / 60 min.
Shellac Manicure
$60 / 60 min.
Shellac Pedicure
$90 / 60 min.
POLISH CHANGE
POLISH CHANGE
Polish Change Hands
$20 / 15 min.
Polish Change Feet
$35 / 30 min.
Nail Repair
$20
Shellac Removal
$20
ACRYLICS + SILKS
Full Set Silk Wraps
$120
Full Set Acrylics
$100
Acrylic Fill In
$85
| | | | | |
| --- | --- | --- | --- | --- |
| FACIALS | | | MASSAGE  | |
| Classic European Facial | $160 / 60 min. | | Deep Tissue Massage / Deluxe | $210 / 90 minutes |
| Gentlemen's Facial | $160 / 60 min. | | Deep Tissue Massage | $170 / 60 minutes |
| Teen Facial | $160 / 60 min. | | Classic Swedish Massage / Deluxe | $190 / 90 minutes |
| Purifying Back Facial | $175 / 60 min. | | Classic Swedish Massage | $150 / 60 minutes |
| Pumpkin Peel Facial | $175 / 60 min. | | Shiatsu Massage / Deluxe | $200 / 90 minutes |
| Deep Cleansing Facial | $195 / 60 min. | | Shiatsu Massage | $160 / 60 minutes |
| Deep Hydrating Facial | $195 / 60 min. | | Hot Stone Massage / Deluxe | $200 / 90 minutes |
| Microdermabrasion + Facial | $260 / 60 min. | | Hot Stone Massage | $160 / 60 minutes |
| Anti-Aging Glycolic Acid Facial | $235 / 60 min. | | Sports Massage / Deluxe | $200 / 90 minutes |
| Rosacea Facial | $210 / 60 min. | | Sports Massage | $160 / 60 minutes |
| Acne Facial | $210/ 60 min. | | Reflexology Massage / Deluxe | $200 / 60 minutes |
| Vitamin C + B5 Facial | $235/ 60 min. | | Reflexology Massage | $90 / 30 minutes |
| Oxygen Facial | $235 / 60 min. | | Pre-Natal Massage / Deluxe | $200 / 90 minutes |
| Oxygen + Vitamin Facial | $285 / 60 min. | | Pre-Natal Massage | $160 / 60 minutes |
| Biologique Recherche Facial | $235 / 60 min. | | Post-Natal Massage | $200 / 90 minutes |
| LED Photo Facial | $235 / 60 min. | | Foot Reflexology  | $85 / 30 minutes |
| Revitalizing + Anti-Aging Facial | $310 / 60 min. | | Head + Scalp Massage | $85 / 30 mintutes |
| 24 KT Gold Facial | $310 / 60 min. | | Back Massage | $85 / 30 minutes |
| Five Star Facial | $510 / 75 min. | | Chair massage | $50 / 15 minutes |
| | | | | |
| SERIES | | | | |
| Glycolic Peel Series | $1550 / series of 6 | | | |
| TCA Peel Series | $1850 / series of 3 | | | |
| | | | | |
| ADD ONS | | | | |
| Microdermabrasion Treatment | $110 | | | |
| All Natural Herbal Peel | $110 | | | |
| Glycolic, Salicylic or Lactic Acid Treatment | $85 | | | |
| Oxygen Treatment | $85 | | | |
| LED Treatment | $85 | | | |
| Vitamin Serum Treatment | $85 | | | |
| Custom Masque | $65 | | | |
| Eye Treatment | $85 | | | |
| Lip Treatment | $45 | | | |
| Extra Massage | $85 / 30 min. | | | |
| Reflexology | $85 / 30 min. | | | |
| Massage or Reflexology | $50 / 15 min. | | | |
| Makeup | from $135 | | | |
| | | | | |
| --- | --- | --- | --- | --- |
| WAXING  | | | MISCELLANEOUS | |
| Full leg + Brazilian | $165 | | Eye Lash Tint | $65 |
| Full leg + Bikini | $120 | | Eyebrow Tint | $50 |
| Lower leg + Brazilian | $135 | | Spray Tan | $135 |
| Lower leg + Bikini | $95 | | Makeup (full face) | $135 and up |
| Upper leg + Brazilian | $150 | | | |
| Upper leg + Bikini | $110 | | BRIDAL SERVICES | |
| Full leg | $95 | | Updo | $135 and up |
| Upper leg | $75 | | Updo Trial | $100 and up |
| Lower leg | $60 | | Makeup | $135 and up |
| Brazilian | $100 | | Makeup Trial | $100 and up |
| Bikini | $55 | | | |
| Underarm | $40 | | | |
| Full arm | $80 | | | |
| Half Arm | $50 | | | |
| Eyebrow shaping (w/tweezers) | $55 | | | |
| Eyebrows | $30 | | | |
| Lip | $30 | | | |
| Chin | $30 | | | |
| Cheek | $30 | | | |
| Chest | $75 | | | |
| Back | $95 | | | |
| Nose | $30 | | | |
| Ear | $30 | | | |